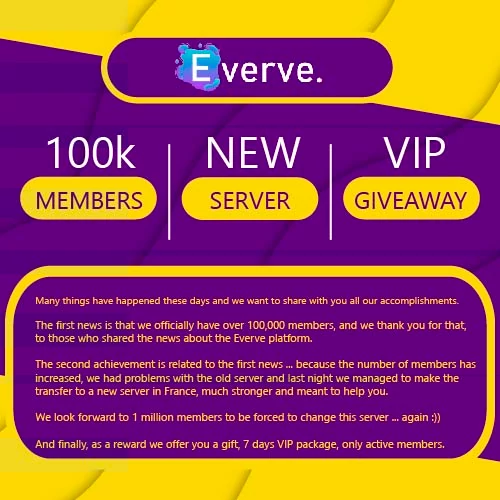 Apr 13, 2020
🇫🇷 100k users and Vive la France!
Many things have happened these days and we want to share with you all our accomplishments.

The first news is that we officially have over 100,000 members, and we thank you for that, to those who shared the news about the Everve platform.

The second achievement is related to the first news: because the number of members has increased, we had problems with the old server and last night we managed to make the transfer to a new server in France, much stronger and meant to help you.

We look forward to 1 million members to be forced to change this server... again :)

And finally, as a reward we offer you a gift: 7 days VIP package, only active members (who completed more than 1000 tasks until April 09, 2020). We remind you that in order to activate VIP you need to log out of your Everve account and log in again.
---