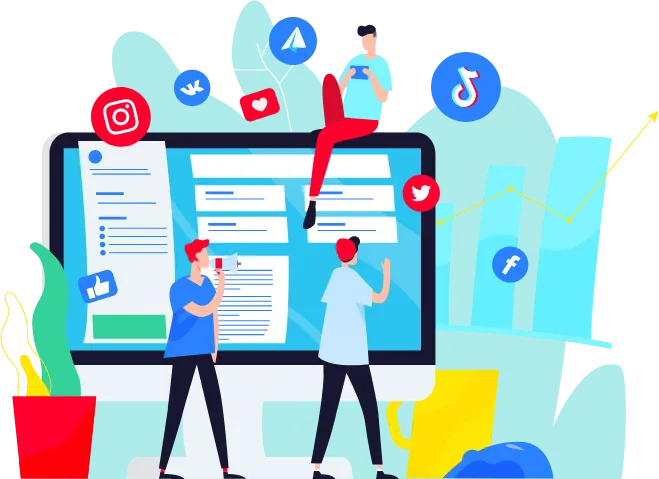 Social Media Exchange
On the next level using Artificial Intelligence. Since 2019.
The most powerful Social Media Community is here on Everve, where you will get a quick boost in the online world and to increase your popularity
Available in the
Chrome Browser
How Does Everve Work
We would like to take the opportunity to introduce to you our top services which can help you easily grow on social media
Login
Complete Tasks
Earn Money
Create Campaigns
Receive Engagement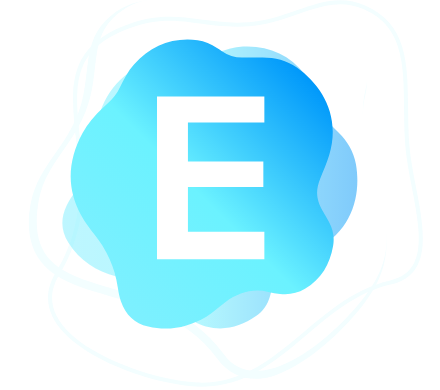 Meet Everve
The simple, intuitive and powerful Social Media Exchange platform where you can help or be helped.

Start today for free and become a part of community of like-minded members.
Available in the
Chrome Browser
Our services for advertisers
We would like to take the opportunity to introduce to you our top services which can help you easily grow on social media
All tasks are performed by our users: we are direct providers of our services
Instagram
Quora
Reddit
Telegram
TikTok
Twitter
Vkontakte
Websites
YouTube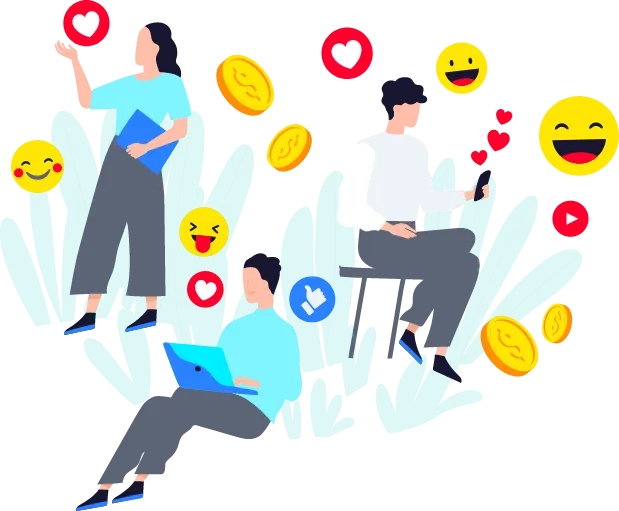 More than an exchange that perfect fit for your needs
Our platform will help you to grow your online business, personal blogs and social media networks by increasing website traffic, search engine rankings, and getting free social media signals from genuinely users.
Everve allow you to exchange online actions for money. These actions range from following other person on Instagram, Twitter, VK, etc or viewing, liking, subscribing, commenting YouTube videos or any other type of action. This content most often belongs to other members from Everve platform who are also trying to boost their social proof.
Once you have acquired enough money, you can then exchange them for social engagement on your own links. We are even allow you to withdraw these money for CASH but also option to top up your balance if you don't want to spend time performing actions.
Available in the
Chrome Browser
Chrome Extension available to make money easy, fast and automatic
Using our unique extension, it will help you make money automatically, while drinking your coffee or surfing on the Internet.
Everve free Chrome extension provides you unique and authentic optimization tasking that can dramatically improve your social media performance
It comes with a range of awesome features including: delay between tasks, sleeping mode, artificial intelligence, start/pause option for each module
We work to make this extension as efficient as possible and so we release weekly updates to improve it
Available in the
Chrome Browser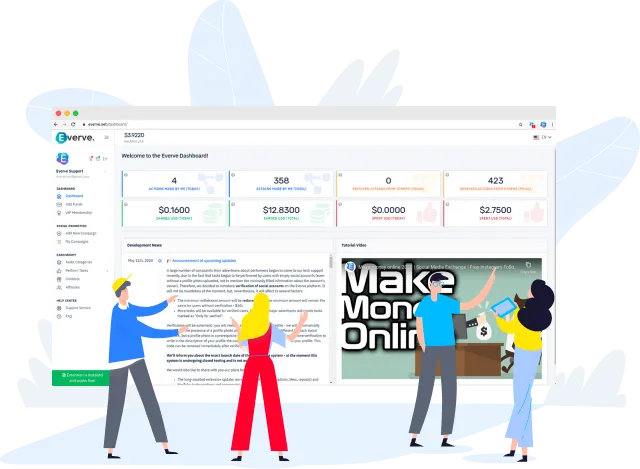 Testimonials
Buena pagina para trabajar, me gusto y mas con su extesion con instagram deberia funcionar para todas las redes sociales; y que las paginas uno ya siga no las coloquen como que uno no hiso la tarea, lo demas todo bien. La recomiendo porque si paga.
Получил очередную выплату, работаем дальше
Es fácil el poder hacer las tareas, aunque hay cosas que se pueden mejorar en la experiencia de usuario. Siempre que da algún error solo dicen que no uno no completó la tarea, pero deberían marcar mejor ese tipo de cosas. A veces no es uno quien falla al hacer las tareas.
сайт ниче но еще только пробую еще не разу не выводила
Apesar de pagar pouco pra ação, e de demorar um certo tempo pra alcançar o mínimo , é uma ótimo site pra ganhar dinheiro, e paga muito rápido mesmo, super recomendo.
Платит честно поддержке респект
Работаю на этом сайте уже полтора года. Дважды выводил заработанное, проблем не было. Адекватная служба поддержки. Очень неплохой сайт для подработки. Всем рекомендую!
Хороший проект. Сегодня получила свою первую выплату. 8 долларов:) Дата операции: 03 Фев 2021 06:05 ID операции: 1295874544 Тип операции: перевод Статус: выполнен Сумма: 7.52 $ Комментарий: Everve: Balance Withdrawal Of $7.6
excelente plataforma y muy seria, me encantaria quesalieran mas tareas, pero esta muy buena, estable..5 estrellas para ustedes
Irei comentar em português, para ter mais liberdade na escrita, estive testando esta plataforma por 15 dias, consegui realizar meu primeiro saque, e até o momento não tive problema com nada, inclusive a equipe de suporte foi excelente, e realizaram um atendimento até em português.
Over 1.5M
Happy Users being with us
And They Are Love Our Platform!
$867K
Earned By Our Users